It's COLD here in the Chicago area!!!! Damn, it's cold!!!! And we've had three huge snows - one in late November, one in mid-December, some small ones, and then the huge one last week. The weather man just said on TV that we have had 42" so far - wow. I was going to guess 3 feet, but was afraid I was overestimating. Last week was the worst because, although it was beautiful to see the trees covered in snow, the snow was the perfect density and stickiness to overload the trees and stay on them - so much so that when it all melts, we're going to see a lot of damage to evergreens, that hold a lot of snow.
I have tall bushy evergreens in back - they're like arbor vitae, but 20 feet tall. The snow stuck to them and actually BENT THEM OVER DOUBLE. Seriously. Fortunately, it warmed up just enough to cause most of the snow to drop off, but I was beating the snow off of one that was still bent over the fence and touching the ground tonight. COOOOOOLD! Will they straighten back up? Some have come back most of the way, but they may not.
What about movies? I've seen "Michael Clayton" and, to be honest, I don't see why it was nominated for best film. It seemed like an episode of "Law and Order" to me. What do the rest of you think? I've also now seen "No Country for Old Men" and "There Will be Blood", both of which are multi-Oscar nominees. Both of them are similar, in that they revolve around 3 main characters, all male. In each of them, two of the three characters are obsessed with triumphing over each other, and just won't let go, no matter what the consequences. And both films are head-scratching "what did I just see?" movies. Were they great? Well... I really would have rather seen movies up for Oscars that were a little more meaningful and not just (possibly) praised because one can assume they must be great because it's not clear what they're about.
OMG... I'm officially a curmudgeon! *L*!
Oh, wait, I almost forgot. I just finished putting together a photo book from scans of our earliest family photos (at least, earliest of my immediate family, starting from when my mom and dad were married). It made me try to remember things about being at my grandparents (my dad's parents) house, and I always seem to think of playing with a little tea party set that was made out of wood and fit into a red wooden apple. I thought for years I must have imagined it. This time I decided to try looking it up on eBay, and lo and behold - I found it - *L*!! How cool is that? Anyway, apparently it was a dimestore toy made in Japan and sold in America in the '50's (back when Made in Japan meant it was cheap, in both senses of the word). But here it was on eBay, and for the low, low price of (gulp) $119!!! *L*! Anyway, I had to share a photo of it: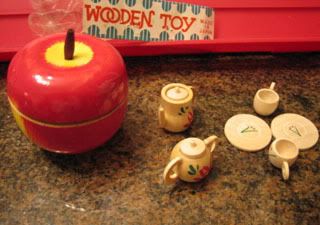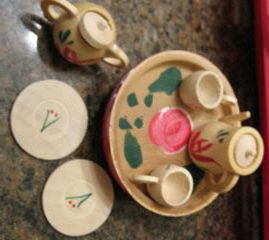 Hey... some other apple tea sets just showed up on eBay that are much less expensive... maybe I'll bid.