Again, haven't been around; hopefully I'll get back into the swing of things again.
Busy with work, but I had a nice social weekend: saw "Eastern Promises" with some friends, and Viggo was excellent (you'd swear he was Russian), and saw a couple of friends in a "theatre hike" production of "The Lion, The Witch, and The Wardrobe" in a local arboretum (great weather,fun production, and great chance to take pics).
If you missed the premiere of "Reaper" on TV last week, I recommend it. It's fun, in the spirit of "Buffy the Vampire Slayer" meets "That '70's Show". No, it doesn't take place in the past, but it IS in Wisconsin - *G*.
And, lastly, here's my daemon, according to "The Golden Compass" (it's an ocelot!):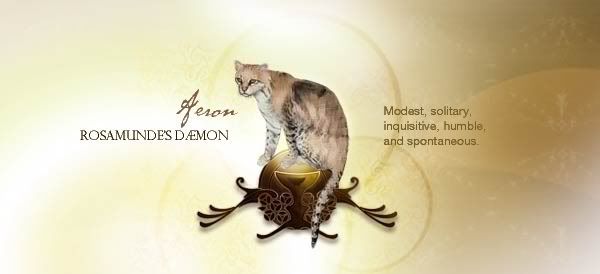 Really? I'm modest AND humble? *LOL*!!!!!!!
ETA: Link for The Golden Compass website:
http://www.goldencompassmovie.com/