Look who's finally getting around to posting photos and notes! *S* Yep, finally. So, be brave and look behind the cut - it's a few notes and some samples of the photos I took (small versions), plus a link to the album with more! Also, if there's a photo of you in here, I labeled it with your LJ name; please let me know if you don't want me to do that - thanks.
So, Day 1 of ORC was a great start. I got to the Sheraton and wanted to call my roommate,
quiet_moments
, but I didn't have her phone number, so I went to the little internet center they had, and, lo and behold, there's
abandonada
! And a few minutes later, here comes
quiet_moments
! I met the two women from Toronto (that I met in Pittsburgh when Billy sang) in the registration line. I bought toys (imagine - some I didn't already have! *L*!) and some beautiful fan art, and then went off to see Daniel Reeve.
What is it about Weta, anyway? I mean, there's hottie Daniel Falconer, and now they send us hottie Daniel Reeve! That's it - I'm moving to New Zealand. I didn't have high expectations, so I was amazed. Sure, I knew he'd done the calligraphy in the Red Book, and did the maps, but, good lord - he did so much more! Turns out he was an LOTR geek and artist who heard about the movie, and sent a sample of his work to PJ, and got hired. He still had a full-time job, so he was doing this at night and on weekends. Well, not only was he doing what we saw closeups of (the "hero" props), but he was being asked (the night before!) to do 60 pages of the Red Book (he managed 30, and they only used a few!). Keep in mind that he often had to do multiple versions of parchments - large, normal and small - for scale purposes. And when he did the Red Book, he didn't realize (because it had no title, just a little design imprinted at the very top of the front cover) that he had it backwards when he wrote in it (*facepalms*). He had to rip out the pages and rebind it in!
Reeve was also asked to do things like the book titles on the spines of the books in Elrond's library, the scripts at Minas Tirith, and so much more. Then, on top of all of that, he trained Elijah and Ian to write, for when they're photographed writing in the Red Book. I didn't realize that they purposely made Bilbo's writing a little shaky, and Frodo's much more elegant. He showed some of the practice pages, with Elijah writing things like "Sorry these lines are on a slant" - in calligraphy - *G*. I also didn't realize what line Frodo is writing at Bag End at the end; it's the one that says that asking Rosie to marry him is the bravest thing that Sam ever did. *S*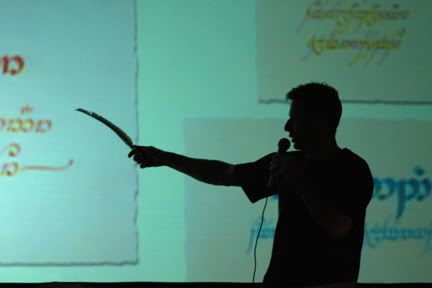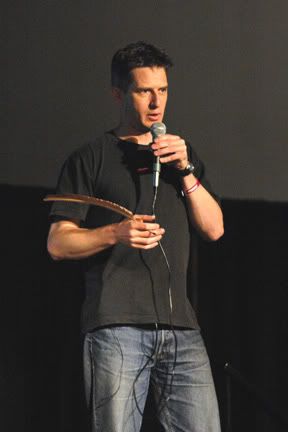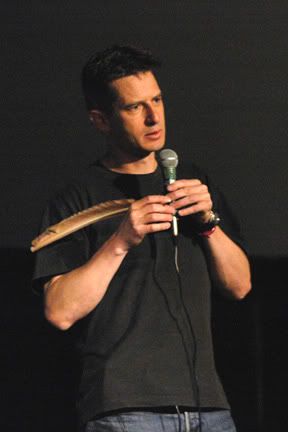 Well, that was just the beginning. I believe he eventually got into this full time, because he then was asked to do things like the DVD titles (in all the languages!), calligraphy for the games, the other merchandise, special projects for PJ (maps and such for his re-creation of Bilbo's smial on his property), and such. And then - Narnia! He did the maps, including an alternate one he loved, all surrounded with snowflakes and done in blue and white, that was felt to be too much of the Witch's view of Narnia.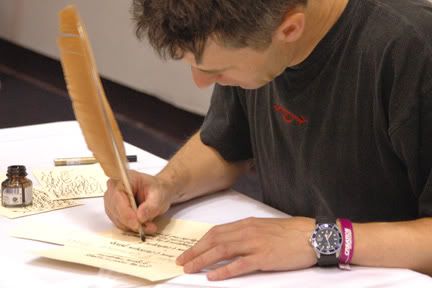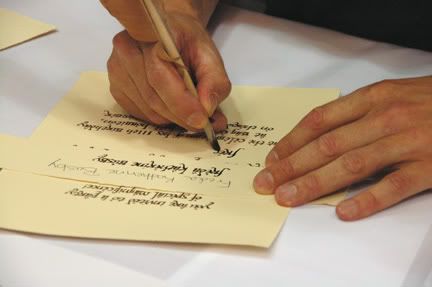 Outside, he had hand-written copies of Bilbo's invitations, with the name left open, so you could have one personalized, as well as a limited number of hand-written Ring inscriptions (I bought one of the latter). He was just so sweet, down-to-earth, and amazingly handsome. *S*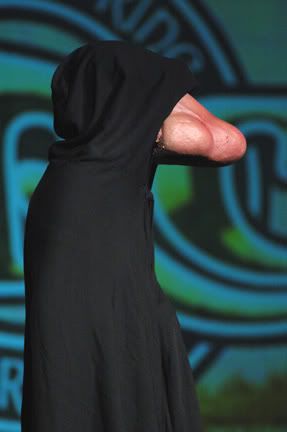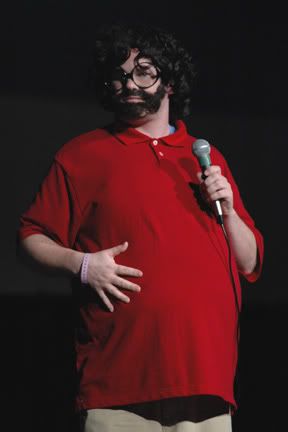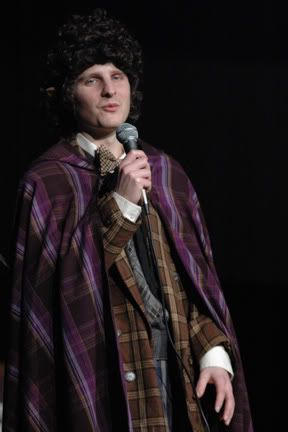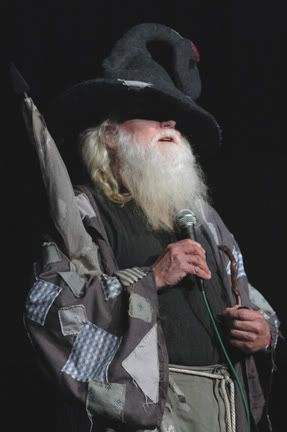 Later, we got to see the "Making Of" clips from the parody "Dork of the Rings" - which was made right here in Indiana! YAY! It's so cute. The hobbits (forget what they called them), live in pastoral happiness on the 19th hole of a golfcourse; Gandalf rides around in a golf cart and carries an umbrella; the Nazgul are the NoseDrools (giant noses); and it's all directed by Jack Peterson (*winkwink*). Looks really funny; google it if you get the chance!
Want to see more of Daniel Reeve and his calligraphy? Sure you do - *S*. Just go here:
http://share.shutterfly.com/action/welcome?sid=9AbsWjFy1atz8&notag=1