Oh, heck... still not hearing any definite preferences here... some interest in Columbus Day, but that's also opening weekend, so it might be hectic.
So, right now I've heard the following responses and preferences [edited - my tired mind had the wknds wrong]:
October 8 - Kunga, Ninq/Boo/SB, Dee/Hubby/Shireling, Graewolf? (Columbus Day wknd; also opening wknd)
October 15 - Graewolf? Ninq/Boo/SB, Dee/Hubby/Shireling? Others?
October 22 - Graewolf? Ninq/Boo/SB, Dee/Hubby/Shireling? Others?
So I'd like to suggest, first, that we have a "family" moot on one of the weekends. Ninq and Dee - can I ask the two of you to decide between you on the best weekend? It would be oriented towards making sure the kids have a good time, and will be set up for their preferences. So, with that in mind - Ninq, Dee - what would be the best day and time to go? Saturday or Sunday? First thing in the morning, or after lunch? I figure you guys know best. *G* Keep in mind that Indianapolis also has what I've heard is an excellent Children's Museum (with Dinotopia!). Let's see if we can decide by Saturday; I don't want tickets to run out. *S* Kunga, you're welcome to come that weekend, too, if you're okay with having kids around! And, Gaya? What about you? Are you interested in coming down, and bringing some of your family? If you are, try to let me know by Saturday - thanks.
Second, Graewolf, you're welcome to come the same weekend if you wish, or Oct. 28, when Abandonada and Rakshi will be down. They were planning on staying at a hotel because Rakshi was bringing her grandson - and I think they were coming down Columbus Day weekend. Maybe all of us can hook up somehow! [again, edited - had my weekends confused!]
Third... anybody else? Kam and Dawn - I hadn't heard from you, yet... I realize you may not be too interested since you saw the exhibit in London - and it may be the same one, although I'm not sure. But, Tig, what about you? Wanna come on down from Chicago? Finabair? Of course, you can also take a chance and leave it to the last minute - just contact me and let me know, because I'd love to have you stay, if I'm not busy with something else when you come. Hobbitgrrl? Am I missing anybody else within driving distance? (if so, sorry! my brain is slow lately. *G*)
So!!! Dee and Ninq - let's set a day and time, and let me know which nights you're staying, and Kunga and Graewolf, let me know your decisions. Squee!!!!!!! We're gonna see LOTR!!!
Hey - guess what I saw being put up the other day when I was running around for GenCon? *G*: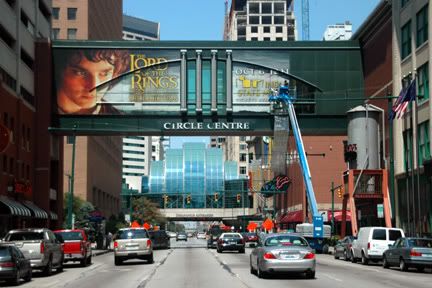 And a photo of the back of the Children's Museum - check this out!: