As you guys know, I was lucky enough to see Billy on Saturday night, after about a 6 hour drive from Indy. I'll let
onecheekyhobbit
go into more detail (and squeeeee!!!!!), since I'm more of a photograph person (see below), but here are the bare facts. There was a pre-concert dinner, arranged by Emerald Took (whom I didn't know, but, thank you!). Billy showed up towards the end, coming down beautiful red-carpeted steps (wish I'd gotten that photo!), and then signed, greeted and posed for photos. He was in his pin-striped suit, with white shirt, his greenstone necklace, and medium-length hair. Billy was his usual affable sweet self, albeit looking a bit tired - probably still a bit jet-lagged, with a bit of razorburn on his neck - *S*. I was there with OCH, to photograph her (see her journal), and took the opportunity to ask him whether "On A Clear Day" would be shown in America - and he said yes! I asked if he knew the date, but apparently he didn't know.
Oh, and OCH got to meet Billy - for the first time!!! SQUEEEEEEEEEEEEEEEE!!!!!!! And we had a lovely talk with the other ladies at the table - two from Toronto, and three from the Pittsburgh area.
After that he went up for a Q&A in the auditorium, with Billy on-stage along with the conductor. As you might expect, most of the questions were for Billy, but I wasn't paying attention; I was too busy photographing, since it was a wonderful opportunity. *sighs happily* All of the photos below are from the Q&A session. OCH took some notes, though; hopefully she'll get a chance to do a report soon!
The symphony followed - very well done. I'd heard it in Columbus, OH with Howard Shore conducting, and I think it was even better in Pittsburgh - just gorgeous, and moving. Billy's song wasn't in the Symphony, so it was inserted between measures 315 and 316 of the 5th movement (as the conductor kindly explained in the Q&A session). Strangely, though we didn't see him on-stage at the beginning of the fifth movement. This was explained when his voice suddenly rang out and a spotlight appeared on the stage-right balcony - and there he was, standing straight and singing beautifully. *S* Reminded me of the appearance of the ghost of Hamlet's father!
Afterwards, people in the front rows were allowed in to a post-concert reception, where Billy again appeared for autographs, greetings and photos. OCH didn't have a ticket, but the lovely FRED O made sure she got in - because HE HELPED GET BILLY THERE - SQUEEEE!!!! (Yep, Tig, this is the Fred O from the Columbus concert; he recognized us!) This time I asked Billy about future theatre appearances, but he says that it doesn't look as if that will be possible. (Damn it, I want to see him play Hamlet! Ah, well.) Stupid me, though... I keep forgetting to look in his eyes. *pout*
So, all in all, a lovely evening, and we can be proud of Billy for a beautiful performance.
I've gone through most of my photos and quickly picked up a few of the better ones; I hope you like them. I'll do more tomorrow. Oh, and I did try to record him singing, but it's just too faint and noisy - sorry! But, hey - he sounded like the soundtrack, so - you've heard it! *L*!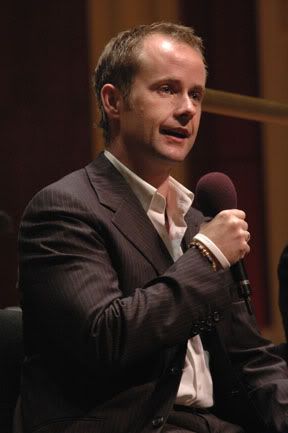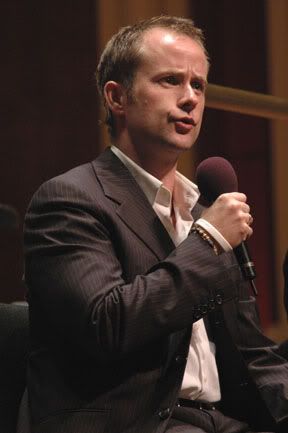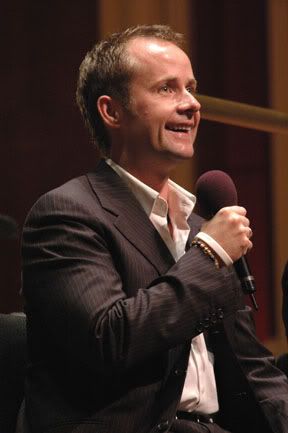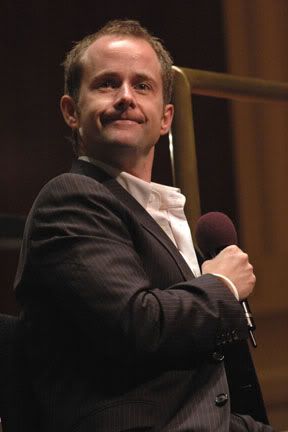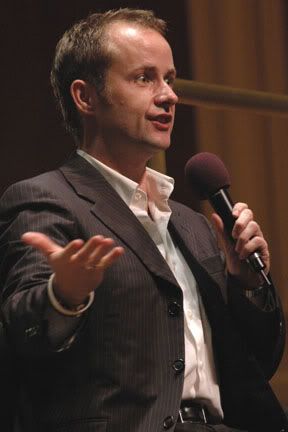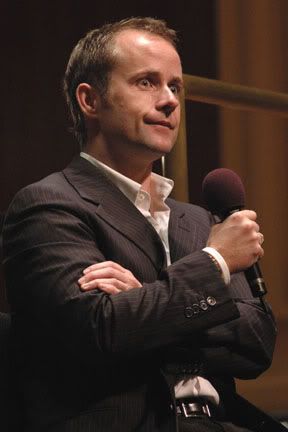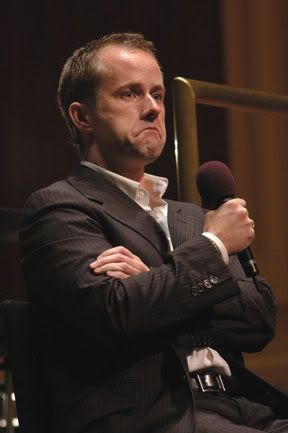 [ETA: Just read another fan's report at
bboyd
, and she says his sister Margaret was there Friday! *looks sad* I've always wondered what she looks like... I do hope we get to see a photo, and I'm so sorry we didn't get to see her there on Saturday.]