Squee! The reason I went to Great Britain when I did was to join my mootmates in seeing Ewan McGregor in "Guys and Dolls". Yes - THE Ewan McGregor. Which ended up being quite in keeping with the Scottish theme of my vacation, of course. *G* My mootmates were Jules (theatre-girl extraordinaire, who obtained our tickets for us), Lorna, and Kam - on her way home from her semester in Edinburgh.
Our hotel was in Picadilly Circus, literally across the road from the theatre: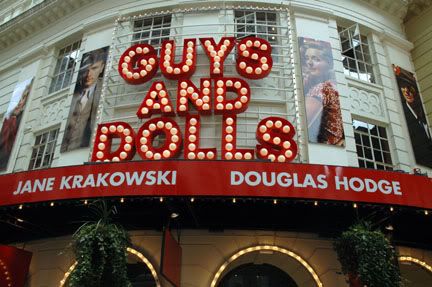 We saw the Saturday matinee. I'd seen bits and pieces of the movie version of the musical, and knew some of the songs, but that was about it. To be honest, I thought it would be a bit of a dry chestnut - one of those musical revivals that are interesting more for historical reasons than for reasons of entertainment, with acting that comes across as "acting". But this production really made the musical come alive! It takes place during the era of dapper suits, hats, and great old gangster accents. The acting was excellent, all the way from Ewan as Sky Masterson to Nathan Detroit, to the two "dolls", and Nathan's sidekicks. Everybody fit their roles perfectly and really shone - dancing and singing included. I loved the dancing - very kinetic, very cool, very stylish, and, in the Cuban scene, verrrrry sexxxxxeh! Whew!!!!! *G* And, back to Ewan: I thought that old, overdone song "Luck Be a Lady" would be something I'd have to grit my teeth through. Instead, it was a revelation; I really believed him as he sang it. Yet, he didn't take anything away from the other actors; it was all a true ensemble production, not a star vehicle. Huzzah for the very talented and very sexy Ewan McGregor!!!
Now, you're not allowed to take photos of the production, but I thought it might be okay to snap a few of the curtain call, without flash. So - here you go! The odd outfits of "Sky" and his "doll" are Salvation Army outfits. Long story. *G*
Mootmates - please add any comments you might have!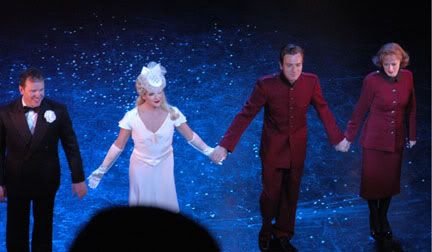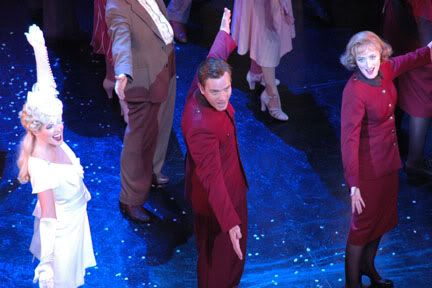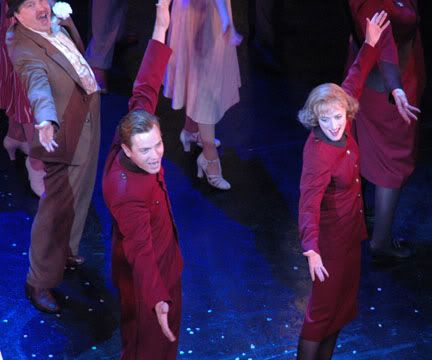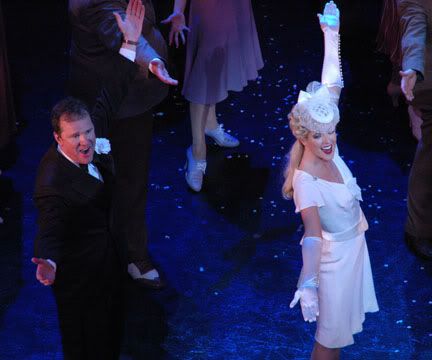 ETA: Some pics from the stage door after the musical (remember, this was a day matinee). Neither of the two best-known actors were there - Ewan didn't come out until after that night's show (Kam got to see him!), because his family came by to visit (awwww...), nor did Jane Krakowsky(from "Sex in the City"), but the actress who played Ewan's love interest did come out (reminds me of Gillian Anderson), as did the actor who played Nathan Detroit, and his two sidekicks. Photos below -