I went to see the Ben Folds concert tonight, with Corn Mo opening.
Therefore, I can now say that I have seen/heard the following:
- "Freebird" - played with gusto on the ACCORDION
- Corn Mo taking a tube of mascara thrown on stage and applying it around one eye... so he could look different to different sides of the audience...!
- Ben Folds opening his show with... what else? The Cure's "Without You" (EEEEE! Gaya! *L*!)
- The words "And this is our drummer Lindsey Jamieson... from Church Crookham... Anybody here from Church Crookham?" (hand on my heart, J, I swear to God, this was actually said! so, of course, I clapped for you! *G*)
- Dr. Dre's "Bitches Ain't Shit", sung as a ballad with piano, drum, and bass accompaniment... with the last line sung over and over by the audience... (!!!)
Of course, I also heard Corn Mo's opening act, and most of Ben Fold's show.
How shall I describe Corn Mo? Take a guy who looks like Sam Kinnison (but doesn't curse or do drugs - actually very sweet!), give him the vocal delivery of Meatloaf, arm him with an accordion, and tell him to sing about what he knows, very honestly, sincerely, and loudly. What do you get? A song about Lollipops, a girl named Angel, a date in a shopping mall, three beautiful girls walking into your room while you're lying in bed experiencing astral projection, "Freebird" (yep, that was him), a song about the girl back home you had to give up when you decided to go on the road, and a song about his brother and his brother's high school friends Jason and Jason and how Jason peed on Jason for no good reason and made Jason cry... Okay, at that point I went out to the lobby. *G* Ummmm... Lorna, Jules... ummmmm... did you like his music? *G* Because... no. Not me. *L*! He might be fun and funny, but I'm not a fan - sorry! And if you've been pulling my leg all this time... you are SO going to get it - *L*!!!!
Ben Folds? His cover of "Without You" was excellent, and he has good songs, although I don't think he got to the couple that are best known before I left. I did like "Come Pick Me Up, I've Landed", from his new album. And how many guys have a drummer from Church Crookham? *G* Ben Folds plays piano, and he had just a drummer and bassist playing with him. He used to perform as "Ben Folds Five", with a different gorup of musicians. So, what does he follow that song up with? The B-Side... a ballad version of the rap song "Bitches Ain't Shit", by Dr. Dre, which is so full of "motherf*cker" and "ho's" and "bitches", etc., that it was a true parody. *G* Couldn't help cracking up, especially when the audience sang along! I left early; I wasn't there as a huge Ben Folds fan, but rather because I won a ticket and he seemed like an interesting musician.
So, that was my night! *G*
If you're curious, this is Ben Folds: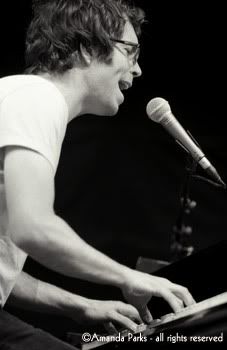 [ETA - Found this on the internet: "The second track to be released, "Bitches Ain't Shit", a mellow cover of Dr. Dre's classic, is also available from iTunes, where it has been in the top 10 downloads in the week following its availability, and debuted at number 71 on the Billboard Hot 100 list. (For those who have been asking, "Bitches" features drummer Lindsey Jamieson on backing vocals.) Glenn Gamboa of New York Newsday says "What makes Folds' version so impressive, though, is how lovingly he turns the macho gangsta anthem into a memorable piano-driven ballad, surrounding it in a perfectly nice song and throwing in sweet harmonies at inappropriate times to get more chuckles." It'll be a bonus track on the vinyl "Silverman" as well as the B-side of the "Landed" seven-inch single which went on sale March 22."
And, if you have a REALLY strong stomach, here are the lyrics to that Dr. Dre song (Oh. My. Gawd. If you have a censor on your computer, it will cause it to EXPLODE. And it may harm your brain. I think it sprained mine. Who in the world can write this nasty, woman-hating, double standard kind of stuff?!?!?! But at the same time, it's so over-the-top that it was hilarious hearing it sung tongue-in-cheek as a ballad... *G*):
"Bitches Ain't Shit"
(feat. Snoop Dogg, Dat Nigga Daz, Kurupt, Jewel)
[Snoop] Bitches ain't shit but hoes and tricks...
[Chorus: Snoop (2X)]
Bitches ain't shit but hoes and tricks
Lick on deez nutz and suck the dick
Get's the fuck out after you're done
And I hops in my ride to make a quick run...
[Dr. Dre]
I used to know a bitch named Eric Wright
We used to roll around and fuck the hoes at night
Tight than a mutharfucka with the gangsta beats
And we was ballin' on the muthafuckin' Compton streets
Peep, the shit got deep and it was on
Number 1 song after number 1 song
Long as my muthafuckin' pockets was fat
I didn't give a fuck where the bitch was at
But she was hangin' with a white bitch doin' the shit she do
Suckin' on his dick just to get a buck or 2
And the few ends she got didn't mean nothin'
Now she's suing cuz the shit she be doin' ain't shit
Bitch can't hang with the streets, she found herself short
So now she's takin' me to court
It's real conversation for your ass
So recognize and pass to Daz
[Dat Nigga Daz]
Now as i'm rollin' with my nigga Dre and Eastwood
Fuckin' hoes, clockin' dough up to no good
We flip flop and serve hoes like flap jacks
(Snoop: But we don't love them hoes) Bitch, and it's like that
This is what you look for in a ho who got cash flow
Ya run up in them hoes and grab the cash
And get your dash on
While you're chillin', with your homies and shit
And how my niggaz kick the anthem like this
[Snoop] BEEEYYAAACHHH!
(Chorus)
[Kurupt]
...To the store, to get me a 4-0
Snoop Doggy Dogg paged, that must mean more hoes
So I head down the street to long beach
Just so i could meet, a freak
To lick me from my head to my feet
And I'm here, now I'm ready to be done up
Nothin' but homies around so I puts my gun up
Bitches on my nuts like clothes
But i'm from the pound and we don't love them hoes
How could you trust a hoe? [Snoop:] Why? [echoed 3X]
Cuz a hoe's a trick
We don't love them tricks [Snoop:] Why? [echoed 3X]
Cuz a trick's a bitch
And my dick's constantly in her mouth
And turnin' them trick ass hoes the fuck out
Now...
[Snoop Doggy Dogg]
I once had a bitch named Mandy May
Used to be up in them guts like everyday
The pussy was the bomb, had a nigga on sprung
I was in love like a muthafucka lickin' the protung
The homies used to tell me that she wasn't no good
But I'm the maniac in black, Mr. Snoop Eastwood
So I figure niggaz wouldn't trip with mine
Guess what? Got gaffled by one time
I'm back to the muthafuckin' county jail
6 months on my chest, now it's time to bail
I get's released on a hot sunny day
My nigga D.O.C. and my homey Dr Dre
Scooped in a coupe, Snoop we got news
Your girl was trickin' while you was draped in your county blues
I ain't been out a second
And already gotta do some muthafuckin chin checkin
Move up the block as we groove down the block
See my girl's house, Dre, pass the glock
Kick in the do', I look on the flo'
It's my little cousin Daz and he's fuckin' my hoe, yo
(Bitches ain't shit)
I uncocked my shit...I'm heart-broke but I'm still loc'ed
Man, fuck a bitch!
[Chorus]
[Jewell]
(Dr. Dre in background "Bitches ain't shit")
I don't give a fuck about a bitch
But I and her know that they can't fade this
Cause i'm doin my own thingdown with the swang
I'm hangin' with Death Row like it ain't no thing
I say you know can't deal
Cuz I'm a bith that's real
Motherfucker need to step back, hell yeah
They need to chill
Because I don't give a fuck
And I don't give a fuck [x3]
And now I gotta do some...
And now I gotta do some shit that's clean
But when I'm on a dick, hell yeah, I get real mean
Like a washing machine
I can wash the clothes
All the hoes knows
That i'm on the flo' ho
But they can't hang with my type on swang
I ain't tryin' to say I suck every ding-a-lang
But just the juicy ones
With the tip of the tongue
And then they're sprung
With the nuts hung
[Dr. Dre:] Bitches ain't shit