Well, skipping around a bit, but - So far, I've posted what I remember of my experience in the autograph lines and Dom's talk, and herinapotter captured Billy's talk well. I really didn't take many notes during Elijah and Sean, so I won't try to do that.
That means I get to talk about JRD next! And I did take a lot of notes during his, because he was in such a good mood and was being the great raconteur that he can be at times. *G* Interestingly, there were more men and boys in this audience on Sunday, compared to the group on Saturday, which was largely fan girls. I've put his words in quotes, but please don't take them as word-for-word accurate; the quotes are just to make clear when he's talking versus when I'm doing a description. Enjoy! *G* And for best enjoyment, imagine his wonderfully gravelly voice, with an edge of amusement in it at all times… For the entire photo album, go here:
http://share.shutterfly.com/osi.jsp?i=EegN2LRi5atWmq&notag=1
On doing Treebeard: "One day PJ asked me if I'd like to do the voice of Treebeard, and I thought "Well - a bit of extra money!" *G* Actors are such sluts, you know. *G*. Such a nightmare - I wasn't sure how to do it! I only agreed to do it on the condition that we could have a week to play around with it. So a friend of mine in radio talked to three different Tolkien scholars about what Treebeard's voice would sound like - and they all had completely different conflicting ideas! And one said that only one actor could possibly play it… James Earl Jones." *L*!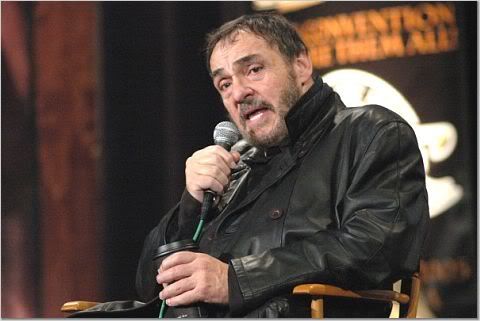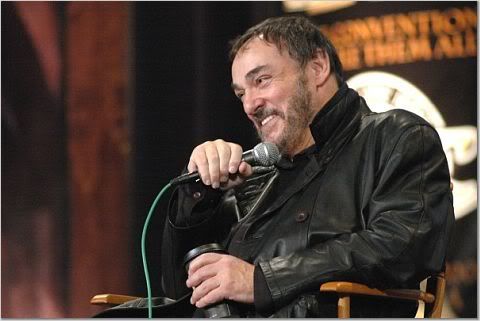 JRD then goes to demonstrate some of the different ways of playing it. They tried layering his voice - what a mess! They tried slowing it down for more deepness. After about 3 weeks, they ended up closer to where they started. Even now he still has real doubts about it - as opposed to Gimli, which he's not unhappy with - such that when you read the book, you can hear Gimli, but it's not really possible to do Treebeard as he's written in the book. JRD then goes on to demonstrate Treebeard taaalllkkiiinnnggg vvveerrrryyyy sssllllloooowwwwwlllllyyyyy. *G*
On acting parts: "The damn thing is, that as you get older, you imagine you can play "Hamlet"; but the rest of the world knows you can't." *G* He thinks that there's a character in "Earthly Powers" by Anthony Burgess - a man who becomes Pope - who would be a wonderful character to play.
Who in LOTR was best to act with?: "They were all so well behaved; it was only the DWARF who was difficult to be with, because he was unhappy." (of course, he's referring to the pain of his prosthetic skin applications) "Young Elijah showed absolute professionalism that is just so memorable and so awesome. Sean Bean is the gentlest of souls. Viggo is one that I also admire and so respect." Directing this remark towards the boy who asked the question: "Base your character on Aragorn! Or on Gimli… but dwarves are so often overlooked." *G*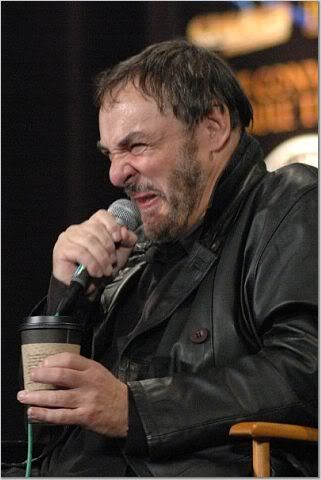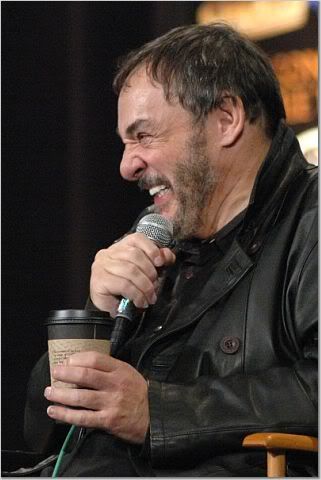 I may have the next question wrong, but it came from a little girl - I believe it was about whether Gimli knows he's small or not. JRD invites the little girl on stage and gets down on his knees next to her and this follows:
JRD: "Why, dwarves are HUGE!!"
Little girl: "*ggl*"
JRD: "Aren't you terrified of me?!"
Little girl: "no"
JRD (to audience, with world-weary look): "Where did this go wrong?" *gets back up into chair * "I need the psychological advantage! (of being taller than the little girl) "How old are you?"
Little girl: "Nine"
JRD: "In ten years time, I will make a great effort to get you Orlando Bloom's phone number." *audience erupts in laughter, and I groan and roll my eyes - he never fails to get in a comment about giving out Orlando Bloom's phone number in a talk! *L*!)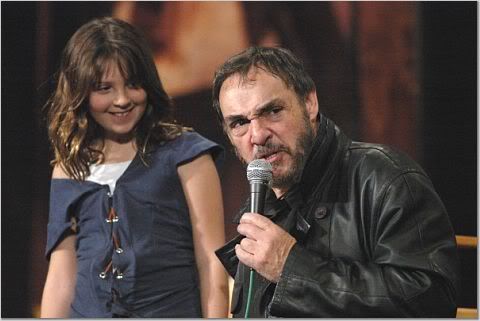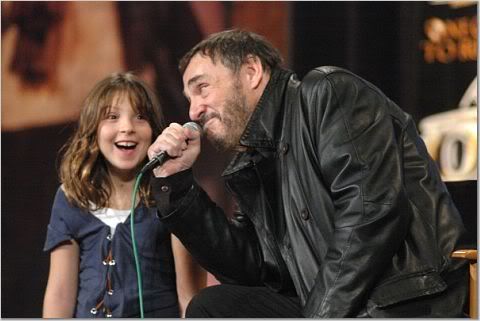 JRD does a little bit as Treebeard that is very sweet , where Treebeard is talking about spring, and how the birds come and make nests in him, and how sometimes the little baby birds need help in making their first flight, and he'll shake the branch a little… but some baby birds try to fly too early, and he has to try to catch them… showing, as JRD says, Treebeard's great wisdom and kindness - but important to remember that Treebeard also contains a great elemental fury.
A questioner refers to a small clip that PJ taped just for the convention - at the end of which, he reminds his LOTR actors of their promises to come and "get squashed by Kong". He says he needs the old crew back! *G* The questioner asks if JRD is going to go and get squashed for PJ. JRD says that he's already seen it (!!!!!) and he thinks it's going to be one of the great movies of the year - so, yes, he'll go back and be squashed by Kong. *G*
What about practical jokes? "My whole life has been a practical joke!" JRD now proceeds to show us one of his fingers, the tip of which was cut off years ago. To cover this up, his makeup person would put on a fake tip. Well, one day he got a small cut and there was blood on the tip… so he goes up to PJ holding the tip, with blood on the end of the finger and asks what he should do - and PJ blanches white and starts talking quickly about how he needs to go to the hospital - until JRD lets him in on the joke. (I love this - PJ, the lord of gore, getting faint at the sight of blood - *L*!) He goes on to tell how to pull the old "severed finger in the cigarette pack" joke he would pull when he was a kid - go up to the teacher, with your finger pushed up through the bottom of the back so that it looks like there's a finger in the pack. His teacher wrote: "John will do well as soon as he learns life is not a joke."
How does he like meeting with the fans? JRD says he likes it, because he gets feedback and reassurance - and connection. For example… he recently went to a screening of a little film he made and came out realizing that "it was not only bad - it was "Ed Wood" bad!!!" (*L*! Wonder what film that was…) "Here, now, I can hear you and see you and know what you're thinking about it. You get that on stage… with TV and films, it's very easy to get separated from that." He goes on to tell a story about a Jimmy Edwards, who had been a great stage comedian. He went and watched him do a live show, and it was awful; Edwards had lost the ability to sense his audience. As he lost his audience, he got more and more obscene, and alienated his audience more and more. Another example - JRD was talking to another comedian, and was about to reply to something he said, when he realized the other person wasn't even listening; he was getting his next line ready in his head. So, it's important to keep that connection, to listen - to your audience, to other people. It's true in acting, and it's true in other relationships. (remember what I said about the life lessons from all of these panels? Here you go!)
A little boy comes up and asks what JRD's favorite scene is. JRD very sweetly turns the question around and asks the little boy what his favorite scene is. The boy says it's when Gimli is struggling with the warg on top of him, and JRD says some sweet things to the boy. He's so good about respecting the kids when he answers them
On Julie Andrews, who he acted with (in "Victor, Victoria"?): "She's never really been fully appreciated for the once-in-a-generation achiever she is. It's funny how we want a person to have one great talent, and we don't always think it's fair when they have 2 or 3. She's a great person; I'd carry her bags to the airport any day.."
On working with Lucas and Spielberg (the Indiana Jones series) and Jackson - three great directors: JRD refers to Lucas as a "sport" - in the biological sense (an individual exhibiting a sudden deviation from type beyond the normal limits of individual variation usually as a result of mutation); outside the mainstream, but his work has made so much of the mainstream possible. Spielberg - a "Mozart" - can still tap that extraordinary sense of "justice" we had as children. Peter - "Peter's got everything. LOTR turned a minor filmmaker into one of the great filmmakers of our time. But how can you exceed that? I've been in "I, Claudius", and "Shogun", and the Indiana Jones trilogy, but LOTR - how long will I have to wait to be in something like LOTR again? They're giants, all three of them giants."
Comment on how movies get us out of bad times: "That curious dance between our physical bodies and our dreams. The healthiest people are those who dream. When you're unhappy - find something to do with your hands; it always helps."
On the cast members (and their future?): "Interesting cast: a lot of them were minor actors to begin with, and this may be the greatest thing they'll ever do, and it was very interesting to speculate what would happen to them. And I think they'll do awfully well. There are one or two of them that may get harder to cast as they get older. The older actors will survive because they already have. I think a few of the (younger ones) will do very well and do great things." [wonder which are the ones he thinks will get harder to cast as they get older, and why? Hmmmmm]
Question from another young girl: Do you think that, in any part of his life, Gimli would not want to fight? "By and large, dwarves don't like to fight… but when they have to…" *G*
Would he act in Indy again if he were asked? "Ford, Lucas and Speilberg do want to make a fourth Indy movie - but only if it's the best one of all. I think there's a chance they would do it again."
If PJ made "The Hobbit," would he do Smaug? "I love PJ so much, that if he asked me to carry his magazine cases, I would do it!"
Did he always want to be an actor? (from a little girl): "I wanted to be a scientist, but then I saw Oedipus Rex when I was 12, which was a pretty powerful time to see it *laughter from audience* and I wanted to be an actor."
Another question from another little girl: "Did Gimli mean to be funny, or was it by accident?"
JRD motions her up on the stage and kneels, and does his Gimli voice:
JRD: "Gimli wasn't funny!!! *suspiciously* Are you an elf?"
Girl: "I'm a hobbit."
The girl keeps asking - but did he mean to be funny? And JRD shows quite obviously, by his reaction as Gimli, that of course he didn't realize he was being funny, but the girl isn't quite getting it, smart as she is, because she's expecting a straight answer. Really funny and sweet - see the photos! *G*