First the question: I'm finally watching the documentaries, and they show some of the actual healing of Eowyn, as they discuss the song that Liv Tyler actually sings, which gets used for the song. But - did that get used? [clarification: did the scene of the actual healing of Eowyn get used?] All I remember is Faramir and Eowyn at the window.
And - oh! They're talking about the alternative song that Annie did - which sounds like it's based on the words from "The Road Goes Ever Ever On". Interesting. Thank God for "Into the West", though. Still one of the dearest things to me about LOTR. The music and the words are both so beautiful and heart-aching.
Okay, now for the "who does that old photo remind me of": it reminds me of Deagol!!! *G* Yes, no? Or perhaps more of Thomas Robins? Anybody else think so? I heard guesses of Elrond... perhaps they both have the large foreheads and level eyes.
Here's the old photo again: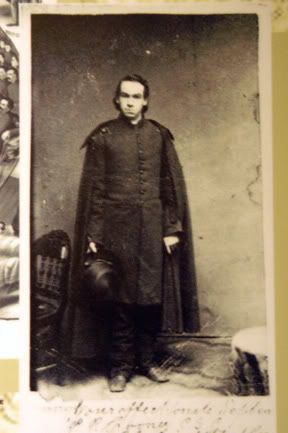 And, of course, I can't find a good Deagol pic (where his face isn't distorted) or Thomas Robins pic. *sigh* Ah, well. *G*