Does anybody else find the face in this Civil War era daguerrotype familiar? *G*
It reminds me strongly of a specific actor in LOTR, or actually, more his character: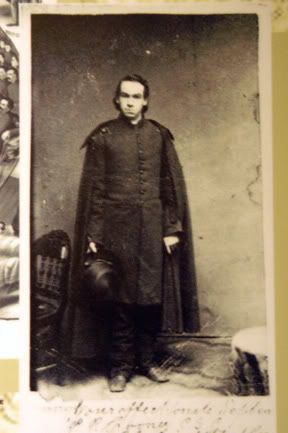 Sorry for the fuzziness; I took it without flash in a Civil War museum that exists under the Soldiers and Sailors Monument in Indy.
Oh, and - saw National Treasure finally. Not bad, but still reeks of Da Vinci Code meets Indiana Jones. Ah, well... Sean's cute. *G* Anybody else start slashing his character and his beloved Shaw in their minds? *G*
But, dayum...! I come home and what's on but The Mummy, followed by Lara Croft!!! If I see one more "follow the clues to find the ancient treasure and save the world" movie, I'm gonna SCREAM!!!! EEEEE!!!!! *summons the strength to turn the TV off* Whew!